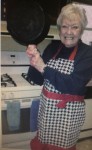 December 25, 1939
-
March 27, 2018
Born in Doddridge County, WV
Resided in

Greenwood

,

WV
Obituary
Ellen Yvonne (Vonnie) Stendel, 79, of Doddridge County WV, departed this mortal life on March 27, 2018, comfortably in her bed, after a battle with lung and brain cancer. Vonnie was born on December 25, 1939 and enjoyed sharing her birthday with Jesus. If you look at her Facebook page, her occupation is "Serving God".
Her only surviving child, Lisa Deem, of Harrisville, WV, was holding her while they both slept when she passed during the night.
Preceding her in death was the love of her life, her husband, Walter N. Stendel. They spent many years of quality time in this part of West Virginia, and were happy to have found each other in Las Vegas, and then retire to the Wild and Wonderful WV.
Vonnie was preceded in death by her two other children Cheryl Ann Jones (Wiggin), and Paul Mark Jones.
Also preceded in death was her Sister Caroline A. Strickler of OH, along with her parents Okay N. and Zella M. Maxwell.
Surviving are her sister Doshia A. Jones, residing in CO, and her brother Ronald A. Maxwell, residing in OH.
Vonnie has been blessed with nine grandchildren, Justin Z. Morgan, of HI, Everett A. Davis, of OH, Jonelle E. Zacanaro of IN, Katherine AnnRenee Davis of IN, Walter C. Davis of IN, Francis (Frankie) Wiggin of NY, and Nicole Svoboda of CA, Dominick Jones of CA, and Jamie Barnreiter of CA.
Vonnie was also blessed with 6 great-grandchildren - Keira and Zachary Morgan of HI; Angelika and Jonathon Jones of CA; Justin and Eden Svoboda CA, along with an unborn grandchild by Jamie Barnrieter, of CA of which Vonnie will look over in Heaven.
Vonnie was also surrounded by many other family members and friends during her time of need. Special thanks to her niece, Debby Miller, from OH, who answered God's prayers and brought an angel to keep Vonnie at home during her transition from mortal life to eternal life.
Vonnie's wish are to celebrate her life, not death. Services will be held at the Harvest Time Church in Pennsboro, WV at Noon, April 7, 2018, with a fellowship celebration to follow upstairs.
Donations can be made in lieu of flowers to the Harvest Time Church in care of Vonnie Stendel, at the following address: 105 Broadway St, Pennsboro WV 26415 (304) 659-3161
To send flowers or a remembrance gift to the family of Ellen Stendel, please visit our Tribute Store.
Services
Service
Harvest Time Church
105 Broadway Street
Pennsboro
,
West Virginia
26415